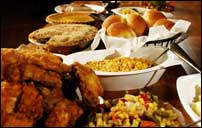 PA Dutch family Style Dining
Plain & Fancy is home to Lancaster County PA's original Amish Farm Feast. The full course, pass-the-platter dinner, includes appetizers, entrees, side, breads, desserts and beverages…all or $19.95.
Who doesn't remember coming home to the aroma of food that mom or grandma has been simmering on the stove for hours – and the joy of sharing that home-cooked meal with family and friends. That's the kind of memories Dienner's lives – and cooks – for.
Family… Friends… And Fresh Homemade Food.
If you love to eat you are going to love Shady Maple Smorgasbord, with over 200 feet of buffets heaped with Lancaster County's finest cooking.
Today our tried & true recipes may not be as simple, but they are prepared with the freshest ingredients…and they are still served up with a smile. If you miss Miller's, you miss a great Lancaster PA dining adventure!