There's nothing like a trek through the cool woods on a hot summer day! The Lancaster County countryside offers an abundance of hiking trails and wooded picnic spots so that you can plan the perfect day. Grab lunch at the local farmer's market or diner and put on your hiking shoes to enjoy the peaceful hiking trails in Lancaster County PA.
1. Tucquan Glen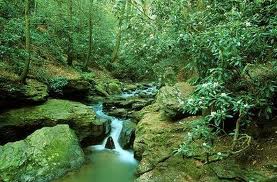 Home to a wide variety of wildlife and plants, Tucquan Glen is located in Martic Township on River Rd. With three rustic trails filled with narrow turns and moss covered trees, this park is a great choice for people looking for a slightly more challenging hike. One false step in some places and you could end up swimming in the Tucquan Creek below!
2. Conewago Recreation Trail
Great for bicyclists and hikers alike, this rail-trail provides fairly level and even ground. With its easy terrain, it's perfect for less experienced hikers or those just out for an afternoon stroll. A very well-traveled trail, the Conewago Recreation Trail runs along Conewago creek until it crosses the Lancaster / Lebanon county like. To access the trail, you can find trailheads along Route 230 near Elizabethtown, Old Hershey Rd., Route 743, Koser Rd., Bellaire Rd., and Prospect Rd.
3. Northwest Lancaster County River Trail
Enjoy the Susquehanna River and the White Cliffs of Conoy along this trail! The Northwest Lancaster County River Trail is still in the process of being built, but will eventually stretch for 14 miles from Columbia River Park to the Falmouth public boat access. For now, you can access the trail from the Falmouth boat access on Route 441, Marietta, Bainbridge, and the Riverfront Park located north of Marietta.
4. Horse-Shoe Trail
Stretching through several counties from Valley Forge Park to the Appalachian Trail access at Stony Mountain, this trail covers 30 miles through Lancaster County. With segments in Lancaster, Berks, Chester, Lebanon, and Dauphin, the scenery changes from one mile to the next. To access Horse-Shoe Trail in Lancaster County, you can find a trailhead just north and west of Brickerville along Routes 501 and 322.
5. Landis Woods
One of the largest tracts of undeveloped, natural land around the Manheim and Lititz area, Landis Woods is a 69.9 acre park with trails totaling 3.6 miles. Choose from among the four different trails depending on your difficulty preference. The shortest trail, at just .3 miles, is also the clearest with a gravel and dirt base. The rest offer a more rugged experience for the outdoor-enthusiast.
Whether you are out for an afternoon stroll during your day trip to Lancaster, or are staying in the area with one of the many bed and breakfast inns, we've got a perfect trail for you! If you're not sure where you want to go, the innkeepers with the Lancaster County Bed and Breakfast Inns Association are always happy to offer suggestions and give directions.
To see more of the great outdoor activities Lancaster County has to offer, check out our Outdoor Activities page.