Lancaster City has it all – a fantastic art community with over 90 art venues, shopping and dining at over 300 establishments, historic architecture, and great cultural and entertainment attractions. There is something for everyone in downtown Lancaster PA. Visit the City of Lancaster website.
The country's oldest farmers' market, in the heart of Amish country, occupies a beautiful 120 year old red brick building chock-full of local character. Open Tuesdays and Fridays; 6:00 am to 4:00 pm, and Saturdays; 6:00 am to 2:00 pm year-round; the market in downtown Lancaster PA is also a great place to buy souvenirs.
The guided walking tours of Underground Railroad and heritage sites in downtown Lancaster, PA are conducted by volunteers. Conductors lead guests to twelve historic sites, including four with authentic connections to the Underground Railroad. Tour participants move along an outstanding tour route, across bustling roads, down narrow alleys; through cemeteries and churches, learning stories seldom heard beyond the intimacy of local families and read in only a few history books.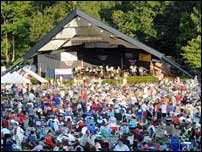 Since 1962 the Long's Park Amphitheater Foundation has offered the always enjoyable "Summer Music Series." The 13-week Sunday evening musical performances is a part of the fabric of life in the Lancaster area and is recognized regionally by music aficionados as a great outdoor venue for the diversity and quality of the artists that perform on its stage. Over the past 50 years hundreds of thousands of people have experienced the transformational magic of live musical performances.