A great way to complement a memorable Lancaster PA bed and breakfast experience, is to treat yourself to one or more Lancaster PA restaurants during your stay. We've listed some of our favorites for you to choose from below.
Checkers Bistro – Lancaster
Checkers Bistro is committed to providing an unforgettable dining experience to each and everyone of our guests.
Greenfield Restaurant and Bar – Lancaster
Located in a 1780 Pennsylvania farmhouse, the Olde Greenfield Inn offers romantic dining in its wine cellar or on a balcony overlooking the lounge where patrons can enjoy live piano music on Friday and Saturday evenings.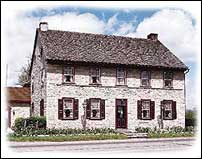 Historic Revere Tavern – Paradise
Our historic tavern, built in 1740, houses four warm and distinctive dining rooms, with 7 working fireplaces throughout.
Stoudts Restaurant and Pub – Adamstown
Celebrating over 46 years of great food and libations.