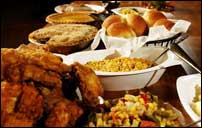 PA Dutch family Style Dining
Plain & Fancy is home to Lancaster County PA's original Amish Farm Feast. The full course, pass-the-platter dinner, includes appetizers, entrees, side, breads, desserts and beverages…all or $19.95.
If you love to eat you are going to love Shady Maple Smorgasbord, with over 200 feet of buffets heaped with Lancaster County's finest cooking.
Today our tried & true recipes may not be as simple, but they are prepared with the freshest ingredients…and they are still served up with a smile. If you miss Miller's, you miss a great Lancaster PA dining adventure!