A great way to complement a memorable Lancaster PA bed and breakfast experience, is to treat yourself to one or more Lancaster PA restaurants during your stay. We've listed some of our favorites for you to choose from below.
Opened in 1998, The Belvedere Inn has always been a fun and relaxed place to enjoy life, food family and friends, old and new.
Tucked away among the wonderful splendors of Lancaster County.
Please join us and taste the difference of local farm-to-table sustainable cuisine in one of Lancaster's best fine dining restaurants.
Located in a 1780 Pennsylvania farmhouse, the Olde Greenfield Inn offers romantic dining in its wine cellar or on a balcony overlooking the lounge where patrons can enjoy live piano music on Friday and Saturday evenings.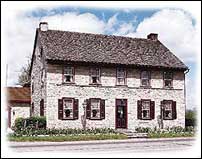 Our historic tavern, built in 1740, houses four warm and distinctive dining rooms, with 7 working fireplaces throughout.
The Inn was built in 1764 and originally named The Zum Anker. Over time the Inn became the Lititz Springs Hotel, then in 1930 the name was changed to The General Sutter Inn to honor John Augustus Sutter, who lived his last seven years in Lititz.