Cherry Crest Adventure Farm – Ronks
We are a working farm and one of America's finest examples of agri-tainment, right in the heart of the Pennsylvania Dutch Country!
Dutch Wonderland – Lancaster
With over 30 kid-friendly rides, including coasters, water-play, miniature golf, and live entertainment, Dutch Wonderland provides many of the first and most memorable moments of childhood.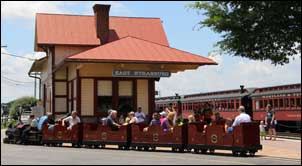 Strasburg Rail Road – Strasburg
The Strasburg Rail Road is one of the premiere family activities in Lancaster PA. Enjoy the beauty of Pennsylvania Dutch Country gazing out the window of a steam train from a by-gone era. This is family fun for young and old alike!
Village Greens Miniature Golf – Strasburg
The Village Greens combines the challenge of golf with the natural beauty of lush gardens to create a unique recreation experience for all generations to enjoy together! Our two courses cover over 13 acres of beautiful countryside which has been enhanced with shrubbery and flowers. The courses change as the season progresses: from thousands of yellow daffodils in spring, to a bountiful variety of colorful annuals in mid summer, to the vibrant fall foliage.
Hot Air Balloon Rides – Lancaster
The United States Hot Air Balloon Team offers the best in equipment and staff to make your balloon flight an enjoyable experience, and a safe one as well.
Waters Edge Miniature Golf – Bird-in-Hand
Come to Waters Edge Mini-Golf, two beautifully landscaped, water-filled miniature golf courses located in Bird-in-Hand, PA. Waters Edge is a family fun destination that is both challenging and relaxing.
Lancaster Barnstormers – Lancaster
Clipper Magazine Stadium in downtown Lancaster is the home of the Lancaster Barnstormers, the 2006 Atlantic League Champions. The Barnstormers play a 70-game home schedule in the Atlantic League of Professional Baseball from early May until October.
Shank's Mare Outfitter – Wrightsville
An 1890's era general store, the building is located on the banks of the scenic Susquehanna River. This unique structure houses Shank's Mare Outfitters, specializing in sales, rentals and instruction of touring kayaking, hiking and cross country skiing gear, plus The Rookery Meeting Facility, our Outdoor Education Center, the Susquehanna House Art Gallery, and a great staff dedicated to the idea that we all need to go play outside!