Amenities
Fireplace
TV/Cable/DVD
WiFi
Air Conditioning
Refrigerator
Luxury linens
Comfortable robes
Massage therapists available
Full breakfast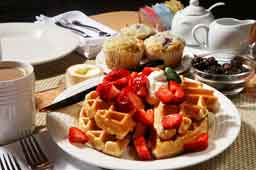 Centrally located in the heart of Lancaster County, The Australian Walkabout Inn is close to everything. Our 1925 farmhouse offers 5 unique, spacious and comfortable suites, all with ensuite bathrooms. Numerous in-room amenities include fireplace, refrigerator and flat-screen TV with DVD player, bathrobes, hair dryers and deluxe linens. On site massage therapy can be arranged upon request.
Breakfast is thoughtfully prepared with attention to dietary needs. Awaken to the aroma of fresh brewed coffee along with a hearty 3-course breakfast. Baked goods, along with hot and cold beverages are available at all times.
Your hosts, Lynne & Bob, welcome you as personal guests and provide individualized concierge service to help you achieve the most rewarding experience during your visit to Lancaster County.